I've wanted to write this blog post for you (for me, really) for YEARS. A review of the most delightful element of the most wonderful time of the year.
I unashamedly had my first Christmas sandwich in October, it was the Pigs Tucked Under Blankets panini in Costa Coffee. In all my years of Christmas sandwich hunting, this may be my first ever hot one. Obviously, it being the first of the year I wasn't sure if I was judging it fairly. You know like the feeling when you're SO hungry that anything you eat is delicious, the same principle applies for when you've been starved of Christmas goodness for 10 months and now you're just not sure if it's good because its good, or if it's just good because it's Christmas… so, I had it twice.
Costa Coffee Pigs Tucked Under Blankets Panini – 6/10.
Earns a bonus point for being one of few Christmas sandwiches on the market served warm, but the sausages are pretty naff and end up with that microwaved textured from the panini warming oven. As a strong advocate against mayonnaise, I also was not impressed by the taste of hot mayo. Much more cranberry sauce needed.
Also judged: Costa Coffee Soya Gingerbread Latte. More gingerbready that Pret a Manger's but quite synthetic and very very sweet.
Pret A Manger Christmas Lunch Baguette – 7/10
Free-range turkey with port & orange cranberry sauce, herby pork stuffing and baby spinach. Finished with a dab of mayo.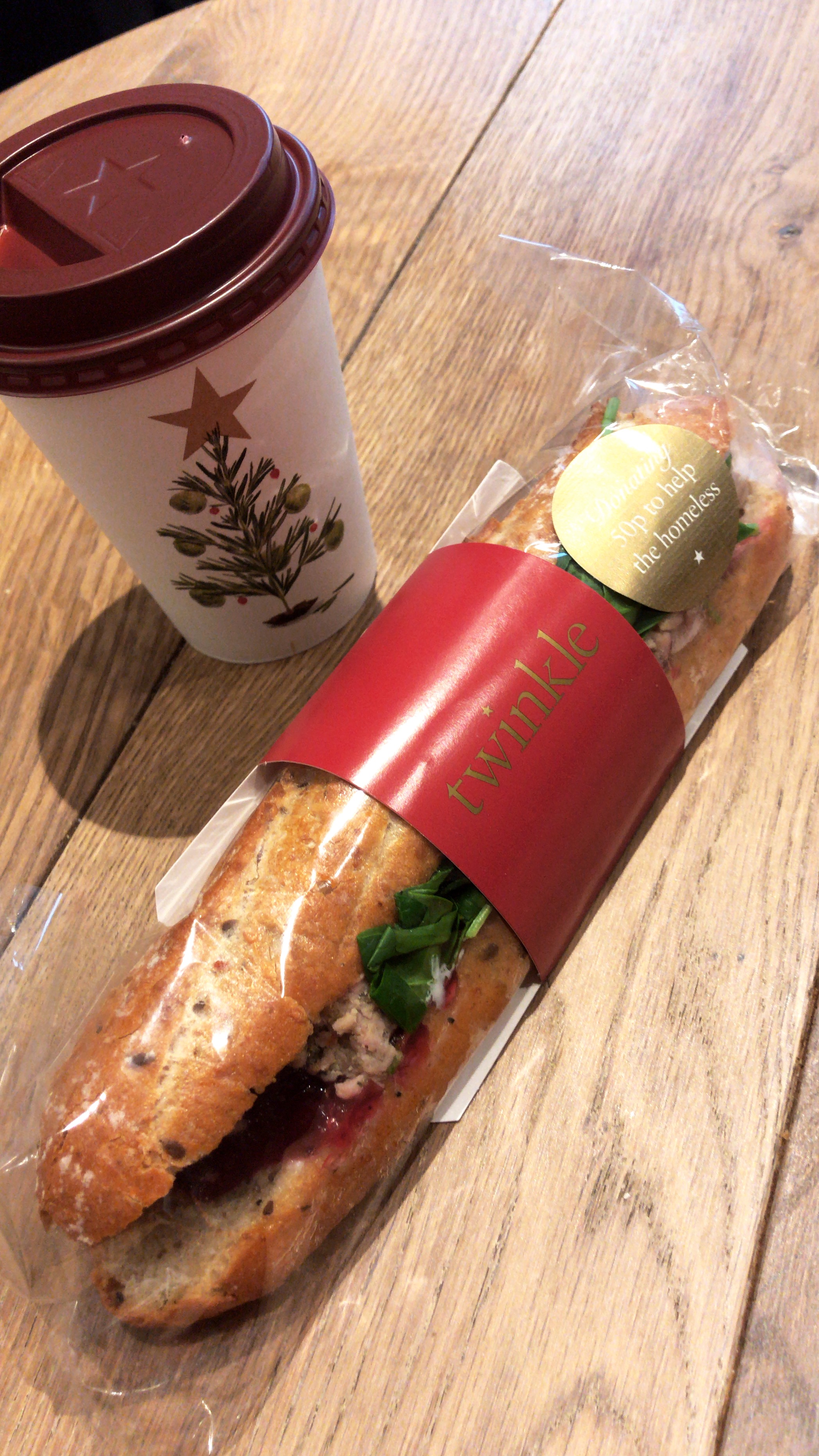 As seedy and delicious as it is, the baguette bread at Pret is just too hard. The ends are sometimes so jaw achingly tough, I just tear them off. On the merry and bright side, I barely noticed the mayo. This had a very even distribution of turkey and stuffing throughout the length of the baguette, however I only tasted the orange element of the cranberry sauce in my last two bites. Pret claim their food is all prepared on site freshly by hand every day, so expect some variations in presentation. Both vegetarians and vegans rejoice as Pret has options for everyone!
Also judged: Pret a Manger Soya Gingerbread Latte. Pret has the best soya milk in high street coffee shops, in my unsweetened milk loving opinion, which helps you actually enjoy the gingerbread flavouring and the coffee without the extreme sugar high.
Marks and Spencer Turkey Feast – 5/10
Perhaps I've been spoilt for choice, but the previously classic M&S classic Christmas sandwich tastes entirely manufactured these days. I always try to pick the one that looks like it has the most cranberry sauce, and the least soggy bread and got an absolute winner on the pictured occasion.
I do think they do have the most extensive range of Christmas food-to-go including a range of cold drinks, but… quality over quantity.
Also judged: Pressed Apple, Pear and Winter Berries juice drink. Just a juice, nothing particularly Christmassy about it.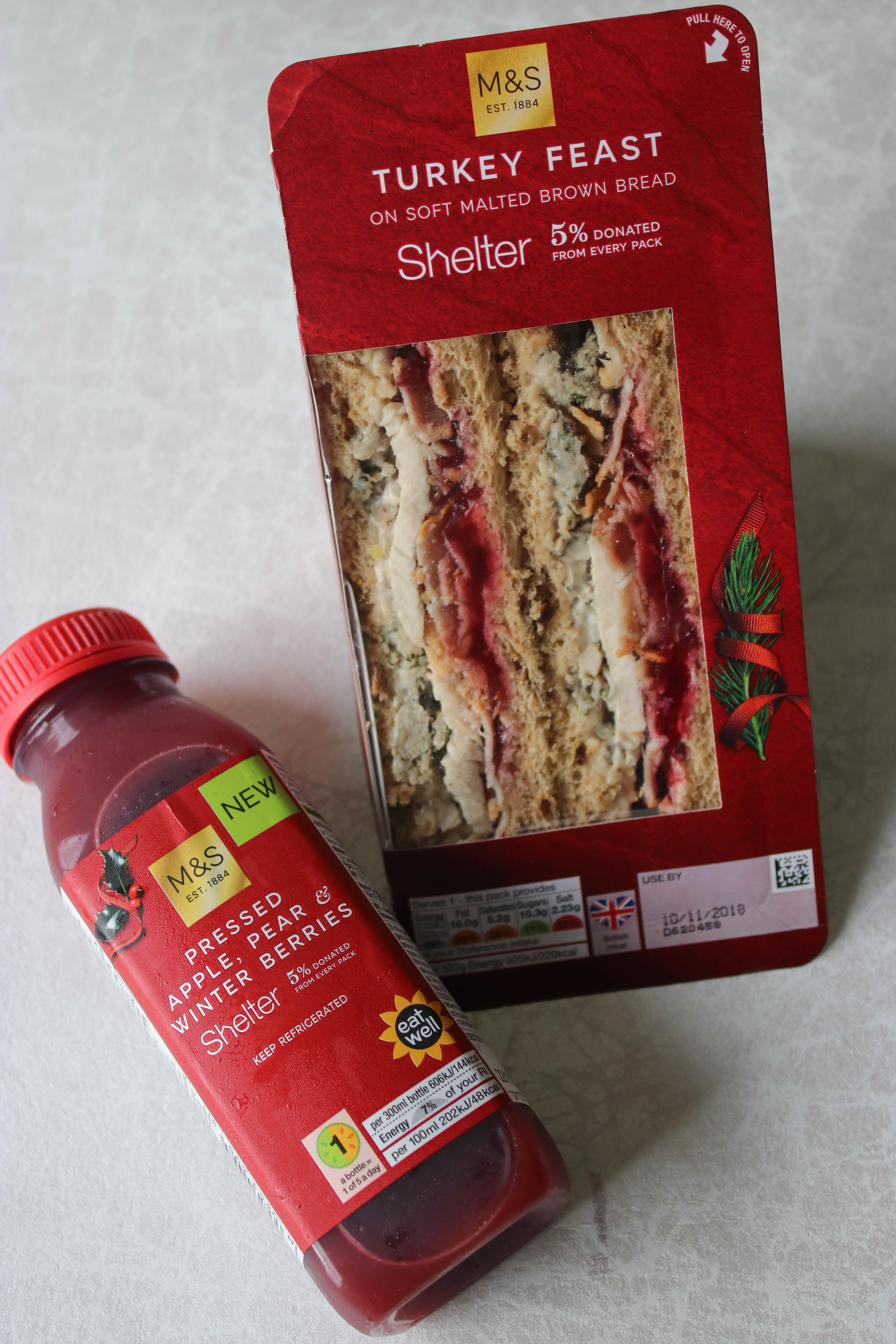 Leon Christmas Wrap – 8/10
British turkey, ham hock, and pork, sage & onion stuffing balls, all wrapped up with spinach, tarragon mayo and a cranberry & clementine sauce.
Coming in at a very close second in the Christmas sandwich championships, Leon's Christmas wrap. As I'm sure you can tell by now, I could always do without mayo. There is nothing worse than getting a mouth full of mayo, so Leon are commended for their even distribution here. I find the flat breads that Leon use for their wraps a little on the dry side but would much rather that than soggy sliced refrigerated sandwich bread.
Pret A Manger Christmas lunch sandwich – 9/10
The 2018 winning Christmas sandwich goes to the Pret A Manger Christmas lunch sandwich. It reminds me of everything the M&S sandwich used to be, are earns a solid 9/10 for the inclusion of crispy onions and much softer bread.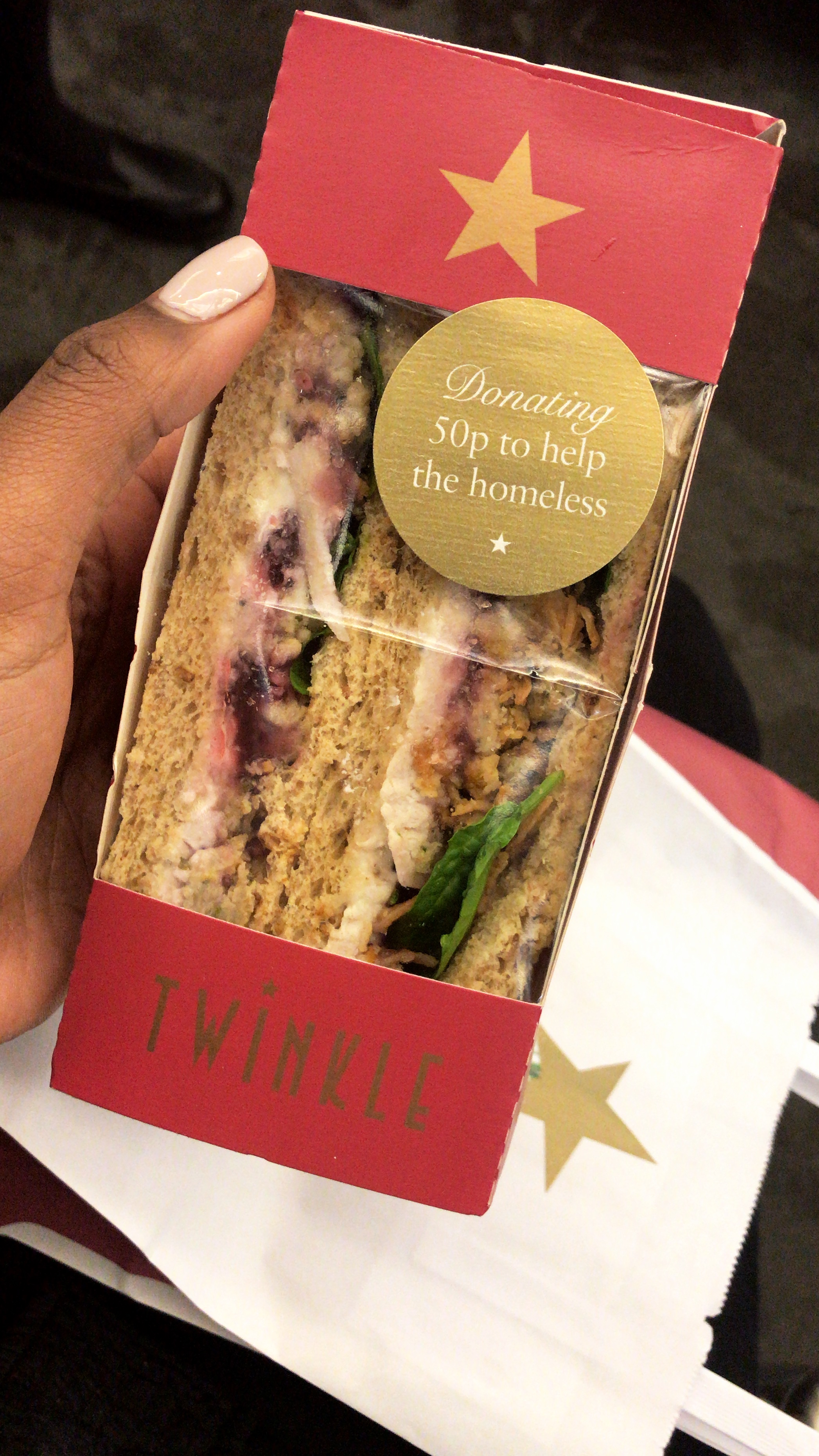 N.B. I've eaten 3 of these… for fair judging, obviously.
Not judged:
Starbucks – because all their food is awful and and their Christmas Brûlée latte contains cows milk as standard due to containing eggnog.
EAT – the Yorkshire pudding wrap sounds amazing but there just were never any left in Liverpool Street station when I needed one.
I may update this post if I find more Christmas sandwiches on the high street! I hope everyone is well and truly in the mood for Christmas, stuffing and sparkle this season.