When reviewing a restaurant, sometimes it's easiest to focus just on the food, as that is primarily what you're expect you are paying for. But at somewhere like Blakes, you can't ignore the attention to detail applied to every aspect to create a rounded dining experience.
For most of us free time is a luxury, and I think that's part of the appeal about Blakes. You have to have the time to indulge in the elegance, make yourself comfortable amongst the scatter cushions, and allow yourself to be entirely waited on. You have to relax into your food. There's no rush at all. When did you last do that?
The decor is a dream; complementary blue and yellow – so chic.
One area I rarely cover on the blog, but always personally note, are toilets. At Blakes, it's one area I wasn't too impressed with so I'll get it out of the way now. The genderless rest rooms have a dark wood, spa-like style with wooden toilet seats. Wooden toilet seats are a big no no to me. I watched an episode of 'How Clean is Your House' where Kim and Aggie repeatedly brought up the amount of bacteria that live in a wooden toilet seat, and do not understand why they are still installed in public bathrooms. Maybe I'm nitpicking as everything else at Blakes was near perfect, but it bothers me.
We were welcomed with an artichoke with a truffle mayo-like dip, and seasoned olive oil. Not something I would have ordered, but very glad I was able to try.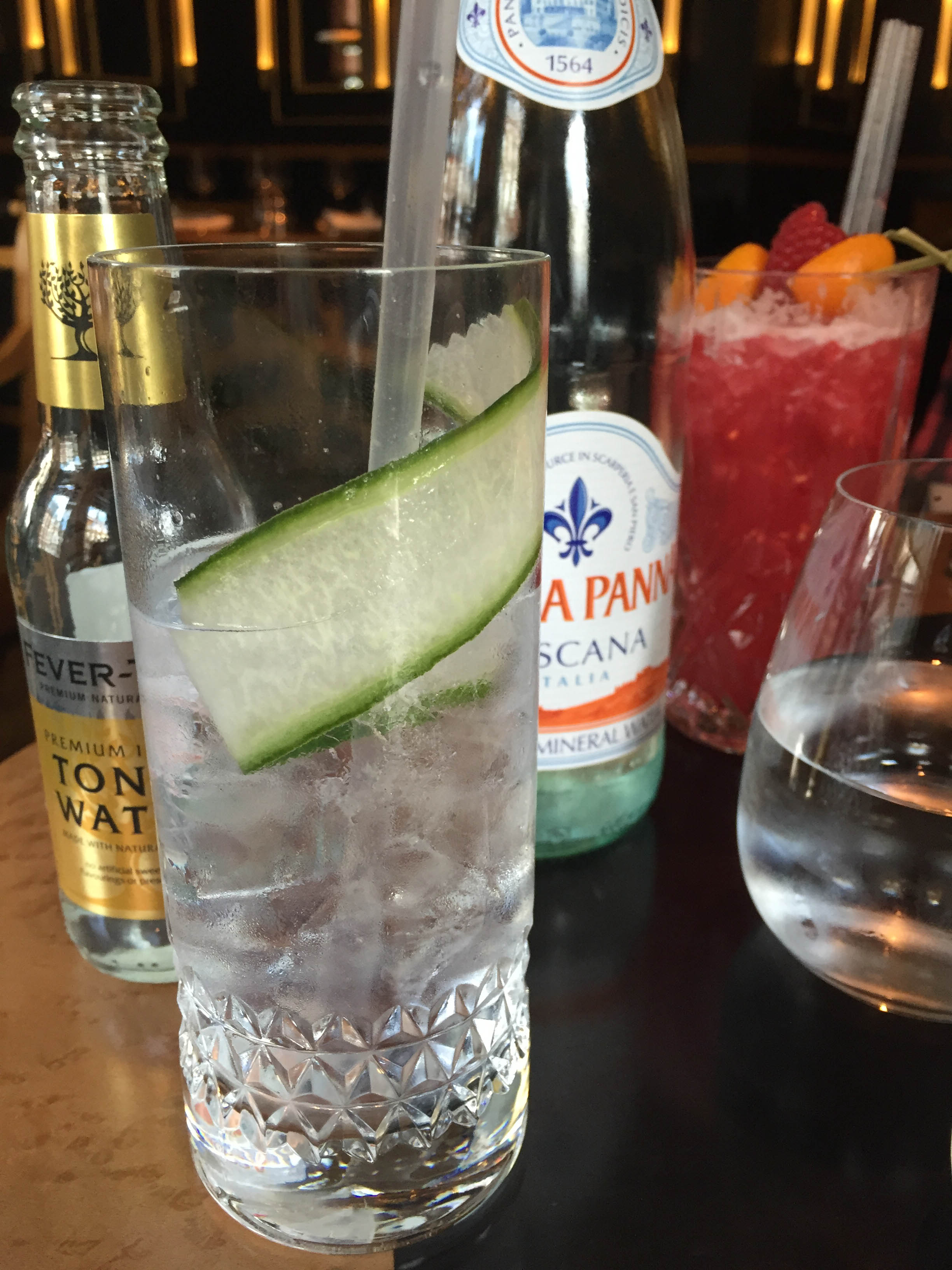 Classic G&T.
To start, I ordered the soft shell crab tempura. I've only recently started eating soft shell crab, and couldn't get my head around the idea at first, but then I tasted it, and haven't looked back since. Despite being deep-fried it was not oily at all; an airy salt and pepper coating, topped with spring onion, coriander, chilli and lime.
It was a toss up between the slow roasted lamb and lobster paccheri pasta for my main course. The lamb was served with artichoke, which I'd already had my fair share of, and realised I could eat lamb on any day, so chose lobster.
It is important to pair the correct pasta shape to a suitable sauce. Fusilli pairs well with smooth sauces, my favourite being pesto, and find the slightly textured surface of bronze die tagliatelle picks more of meaty sauces like bolognese or amatriciana than spaghetti. Paccheri are short wide tubes of pasta, ideal for stuffing or in a thinner sauce like Blakes of lobster pieces, tomato and garlic. There's a real difference in the bite of fresh pasta as opposed to dried, and always opt for fresh.
Dessert is usually my favourite part of a meal, but when my starter and main have been top notch, I get the 'it feels to good to be true to have three perfect courses' gut feeling. I love it when my gut is wrong.
After an under-the-table Google of how to pronounce 'Mille-Feuille' and what 'Varhona Delice' is, my decision was made. I present to you, passion fruit savarin. A ring of sweet sponge, filled with Dulche de Leche cream, drizzled with passion fruit, and yes that is a halved blueberry on top.
Thank you Blakes for a truly luxurious evening of delicious quality food, and attentive hospitality.
One more time for the decor.