I have not written on the blog in three months. THREE MONTHS. I knew time was flying but I had no idea just how fast. In my absence I have completed my degree (and am soon to graduate with a 2:1 in Editing and Post Production), landed myself a full time job, and had an amazing holiday with my best friend to celebrate these successes.
When I started this blog I posted weekly, and have been posting regularly for the last three years but now my schedule is a little different. The Small Slice is something I want to continue to build and work on, and am going to have to find time. This is my 200th post, and I'm back!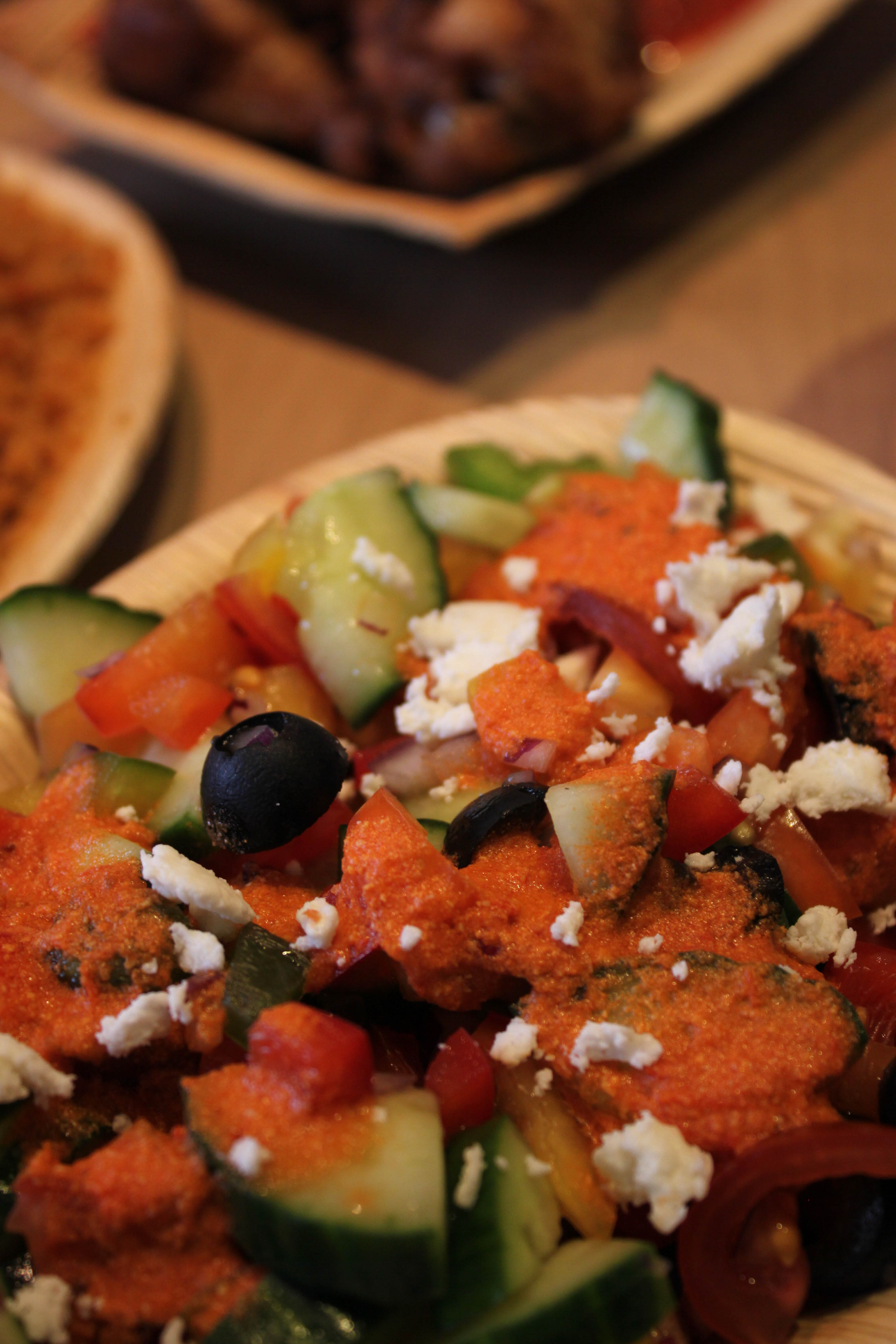 I decided to get back into the swing of things with something I've wanted to do for a long time; eat and write with another food blogger Lopé! You can check out her blog here, and her review of our evening at Chuku's Nigerian Tapas Lounge too.



Chuku's is a food pop-up in London, created by Nigerian siblings Emeka and Ifeyinwa, mixing traditional Nigerian dishes with the typically Spanish tapas dining experience. My Chuku's experience was at the Canvas Cafe in Shoreditch on the last night of their residency in the space. Instead of numbers, tables are given traditional names. We kicked off with the egusi salad, shown above.
I'm not of Nigerian decent and can't say I've ever eaten in a Nigerian restaurant to be able to comment on the authenticity of the food here, but would say the decor, atmosphere and hosts provided me with a great introduction to Nigerian cuisine. One dish on offer I had to try was the Jollof Quinoa. I'm familiar with Jollof rice and quite like it, but consider quinoa one of the driest and blandest foods on the entire planet.

The difficult thing with modernising and putting a twist on a classic dish, is that comparisons will be made. I know when I'm eating Jollof rice that it's not particularly healthy. However quinoa is the new kale (you know, superfood of the month kind of the thing) and Chuku's have managed to infuse a very dull grain with all the flavour of your usual Jollof, with all the protein and goodness of quinoa. Jollof Quinoa, you are a hit.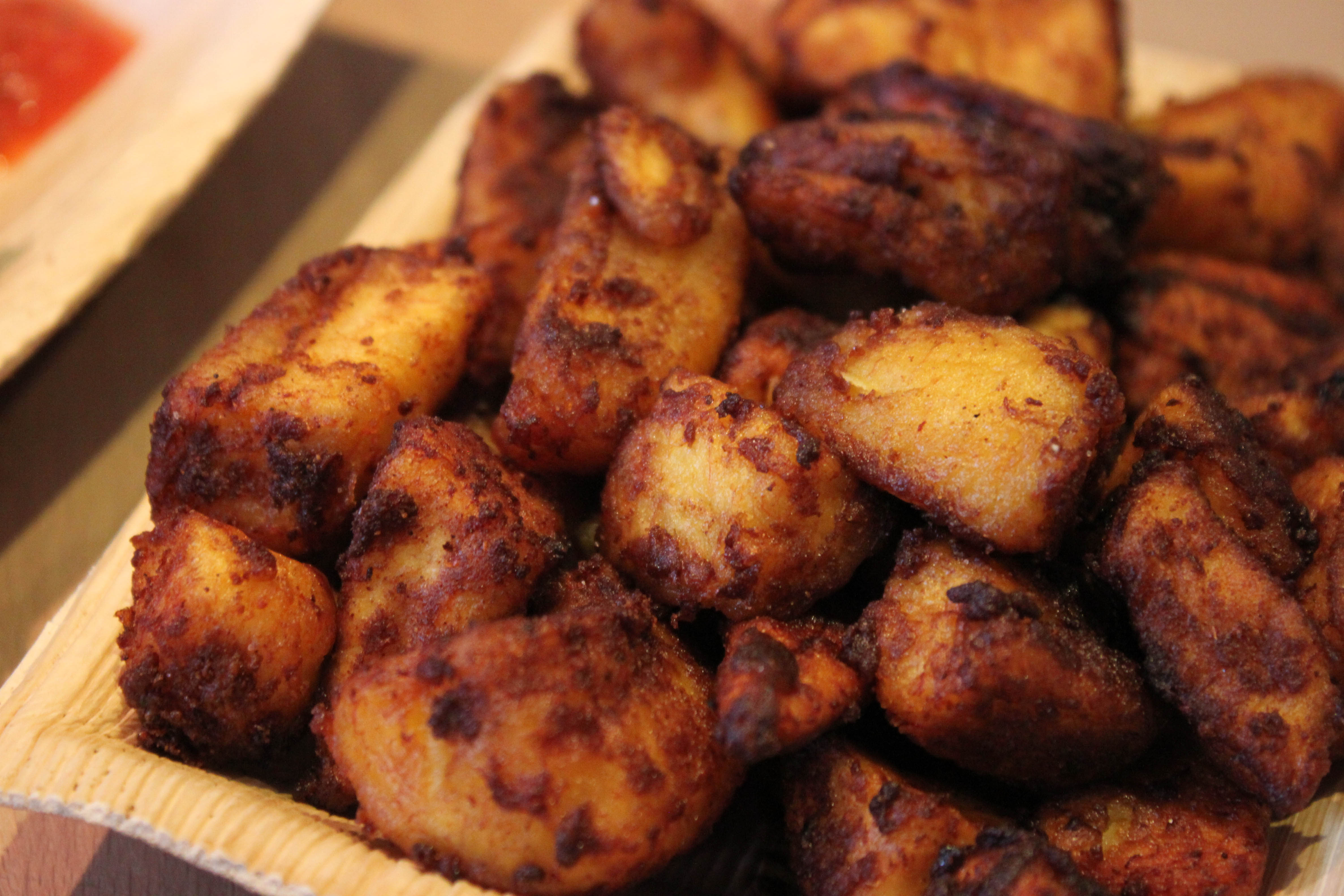 I'm not saving the best until last. This is the best thing at Chuku's. This is the best thing in Shoreditch. This is the best plantain I have ever tasted, and I would estimate I've chowed through at least 300 in my time. Plantain, for anyone unfamiliar, is a cousin of your every day friend the banana. It's sweet yet savoury and rather versatile. It's typically left until very ripe then fried, but you can bake it and boil it too. This plantain had a light coating (containing cinnamon maybe?) and the portion size was plentiful.

At Chuku's, guests are encouraged to 'Chop, Chat and Chill'. I chopped for sure; walked into the famous plantain (plan-tayn) vs plantain (plant-in) debate as my chat; and chilled with some Chin-Chin Cheesecake. Creamy and orange on top with a buttery biscuit base.


A thoroughly enjoyable evening with Lopé! I hope to see the return of Chuku's to a pop-up near me soon.