At the end of 2016 I was introduced to a product called Huel. I wasn't really here for the concept at first (I literally called it food dust) but everyone in my office was using it and enjoying it so I gave it a try and was pleasantly surprised. I documented my favourite combination – Huel Iced Chai Latte – and some other health and fitness tips in this blog post.
My initial objections to Huel were, obviously as a food blogger, it's not food. Why would you need to have this food dust when you could just have cereal or toast? I'm not having dust in water for lunch? 3 scoops of this stuff for dinner!? Nuh-uh. But Huel found a home in my routine as a quick and reliable source of nutrients and fullness, and in the last few months with launching The Small Slice Bakery and being an all over superwoman, that's exactly what I've needed.
Then just when I was getting used to the smoothie life… Huel gave me food.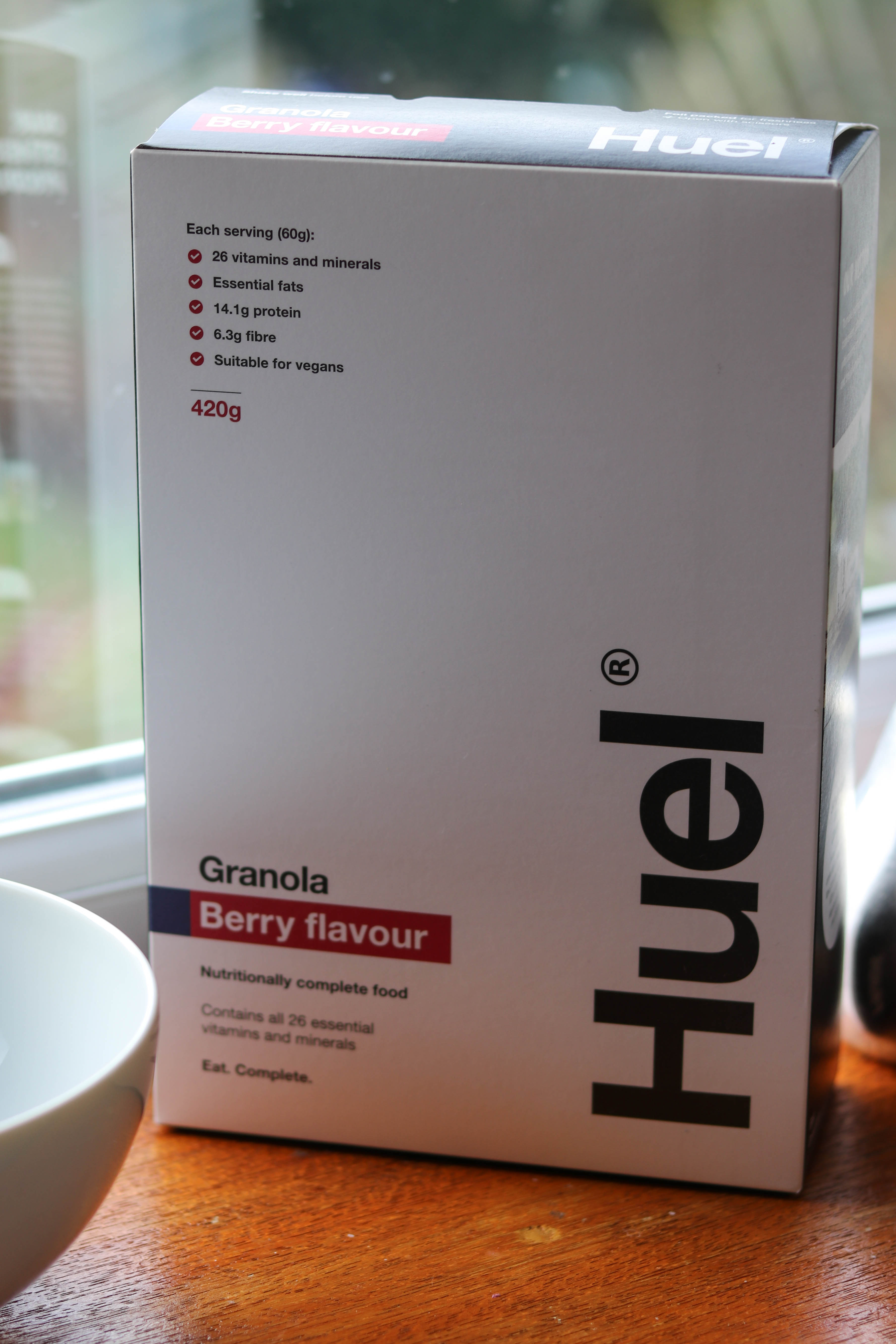 Now this is MUCH more my kind of breakfast.
Huel kindly sent me a bundle of their new Huel powder formula (2.0), the berry granola and their bars. I was sold on the granola immediately and I LOVE freeze-dried berries.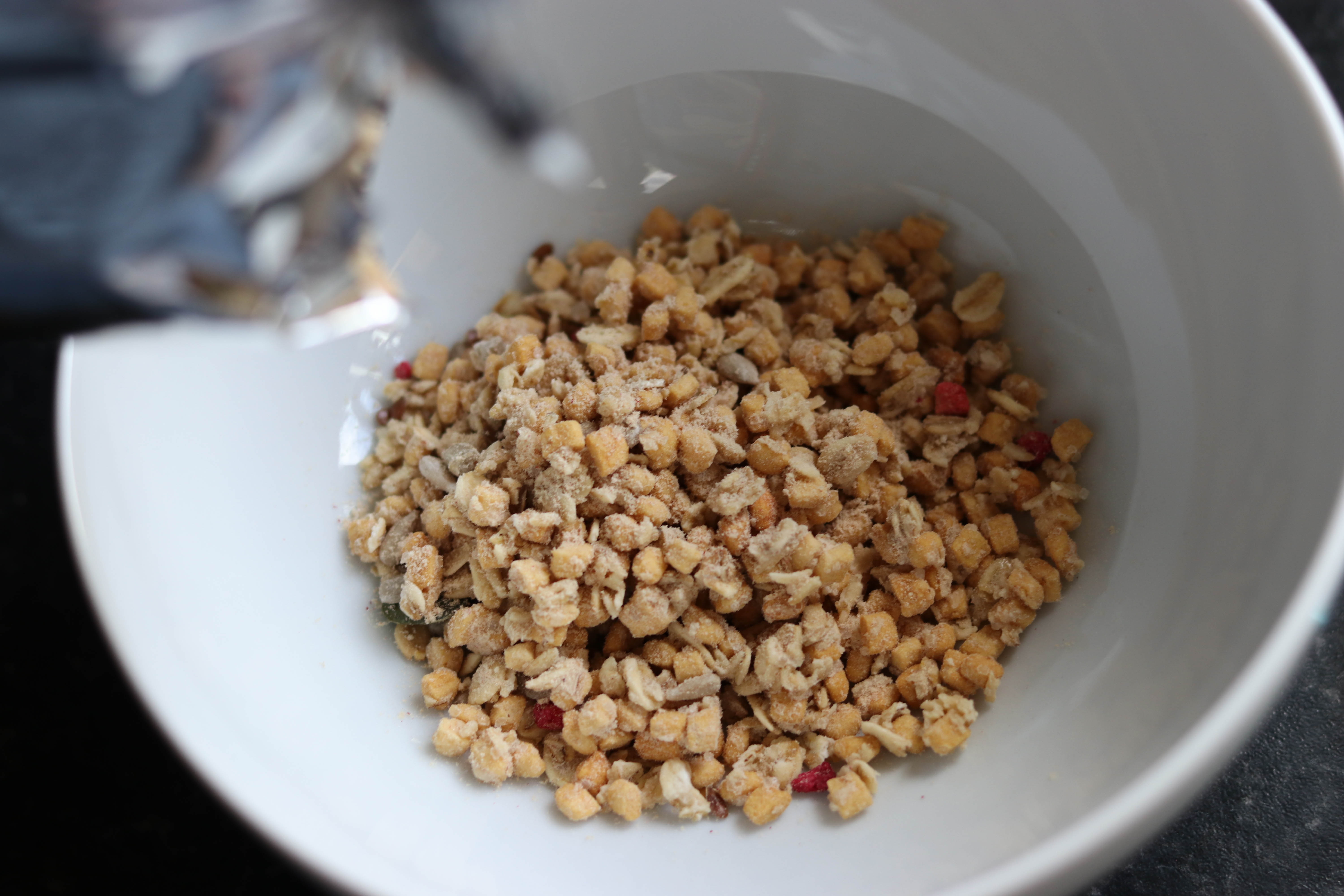 My favourite cereal is deadly. I have to eat at least 3 bowls of Crunchy Nut to feel like I've eaten breakfast. I was interested to see if Huel's impressive nutritional information matches to either a 20g or 100g portion of cereal, so I weighed out the 60g (Huel's suggested serving size) to see what their serving looks like and to see how full I would stay on a serving of the Huel granola vs. Huel powder.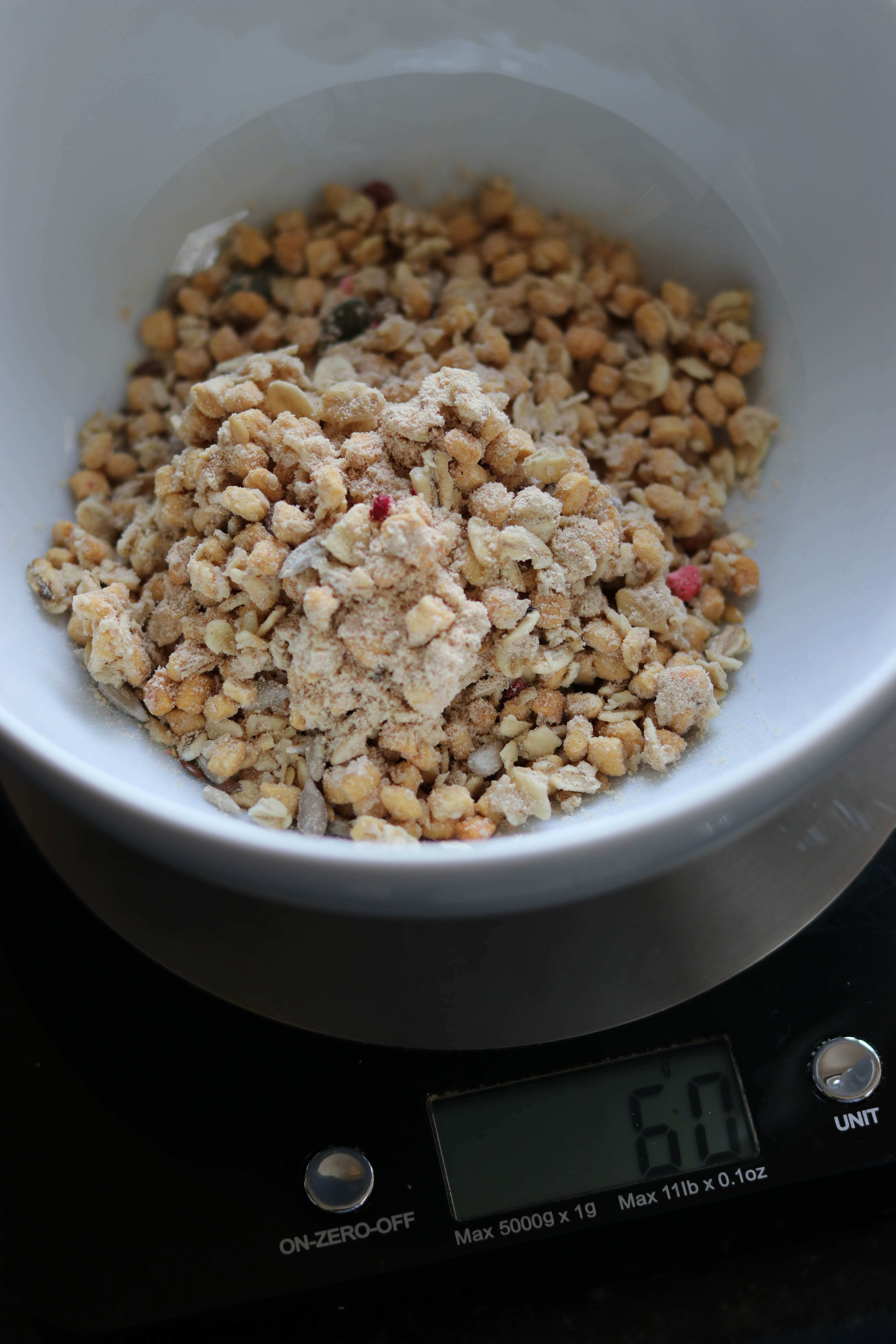 Keeping it dairy-free with my favourite Alpro coconut and almond milk.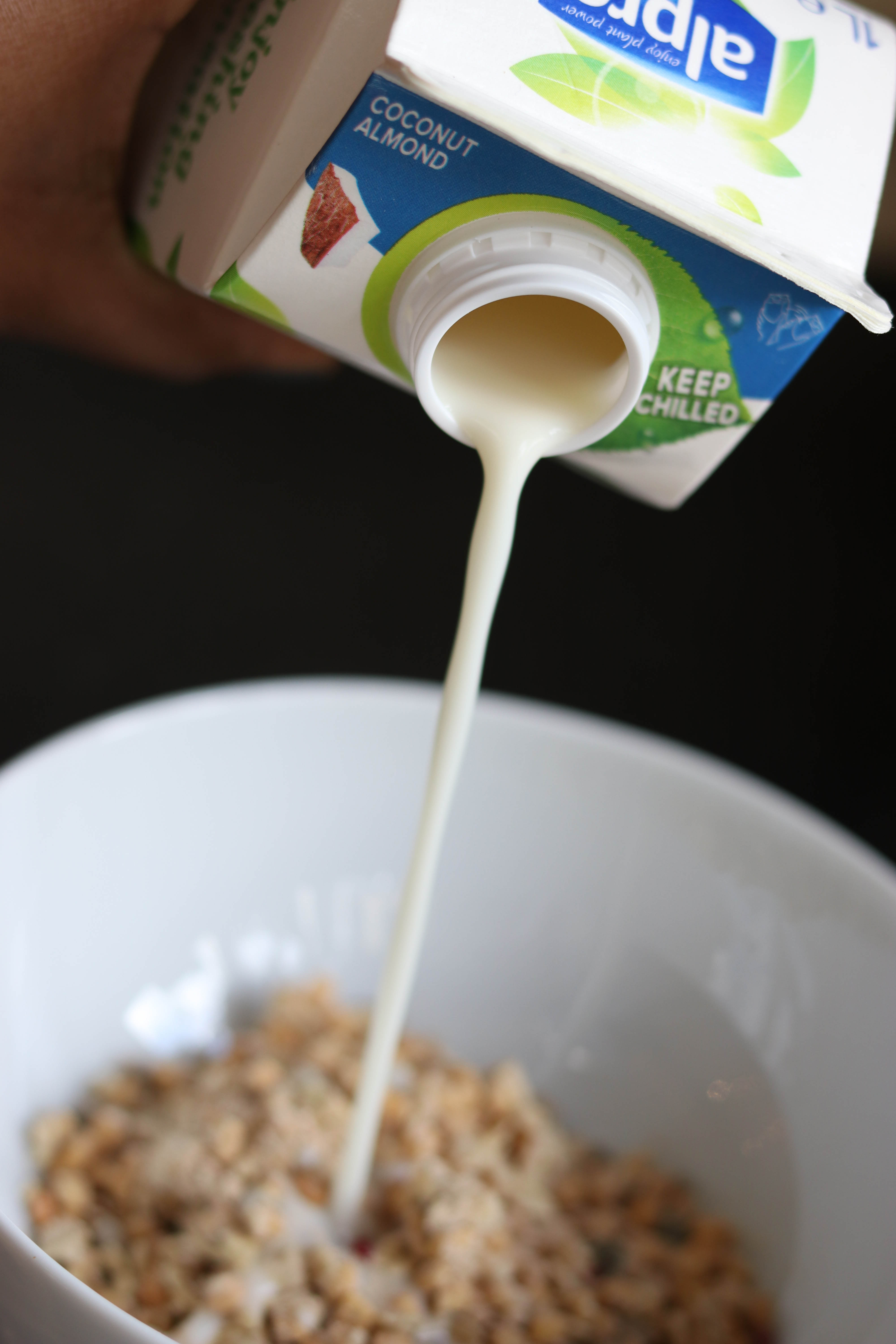 In the case of 'Huel granola vs. Crunchy Nut', Huel Granola wins in staying fuller for longer factor but it does have the taste of the Huel powder I usually blend a fruit or flavouring in to avoid that the freeze-dried berries can't quite cover.
The main reason I would opt for Huel Granola is for the protein factor. I can't use a lot of the affordable protein powders on the market as they are mostly whey protein, and I don't mess with milk. Huel products being vegan is a win for me. There are a lot more 'high' protein breakfast cereals popping up on the supermarket shelves, so I've run a little comparison against some of the ones I've tried or seen.
Oomf! Protein Porridge Oats Golden Syrup (75g) – 20.6g protein
Huel Granola (60g) – 14.1g protein
Lizi's High Protein Granola (60g) – 13.5g protein
FUEL10K Protein Boosted Peanut Loaded Chunky Granola (50g) – 8.4g protein
Weetabix Protein (per 2 biscuit serving) – 7.6g protein
As the only one of my 5 options that doesn't have the word 'protein' in its name, I'd say that's pretty good! Crunchy Nut's suggested serving is 30g for 1.8g protein – shocking.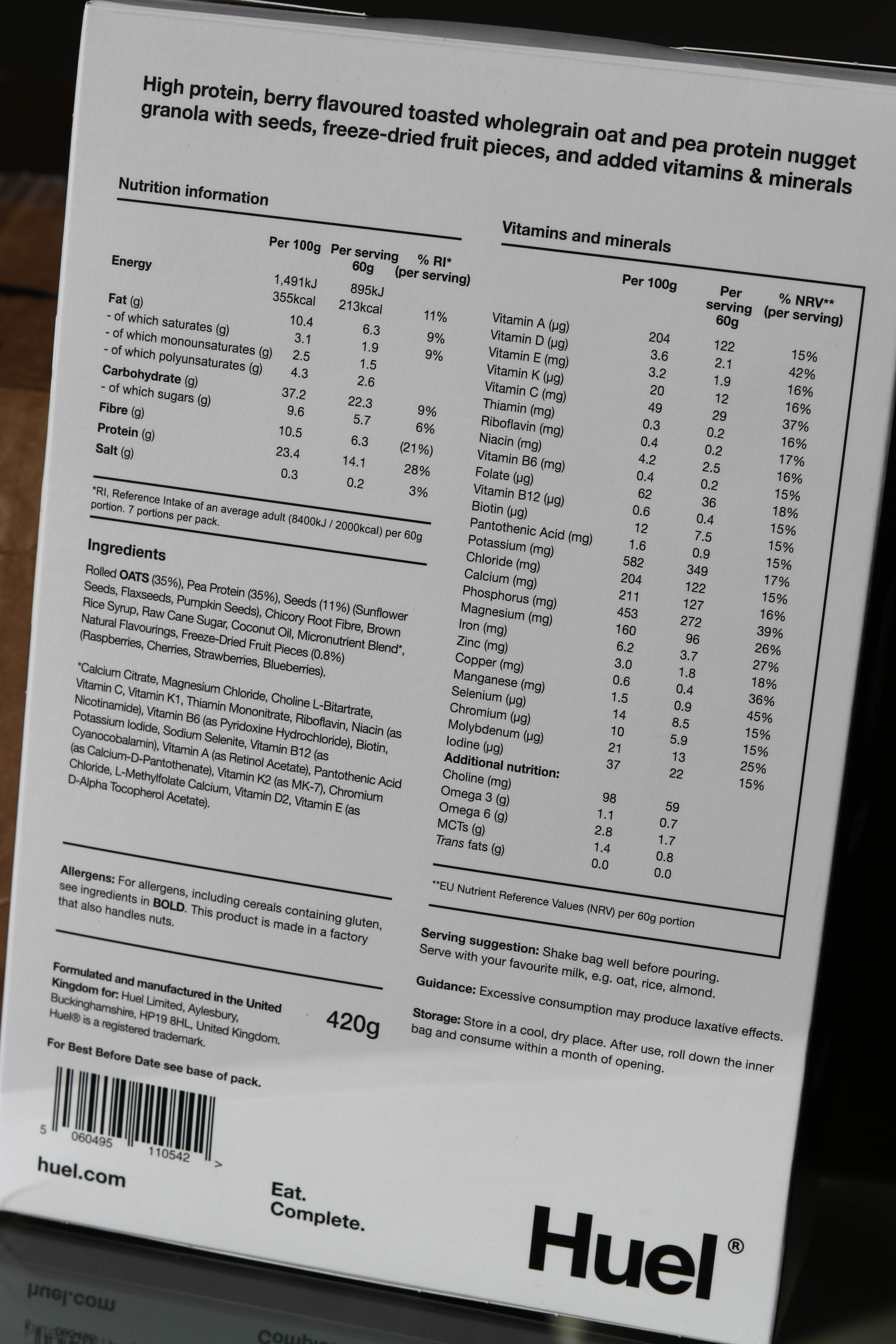 If you're looking for a 'high' protein cereal, give Huel a try! You can order some right here.